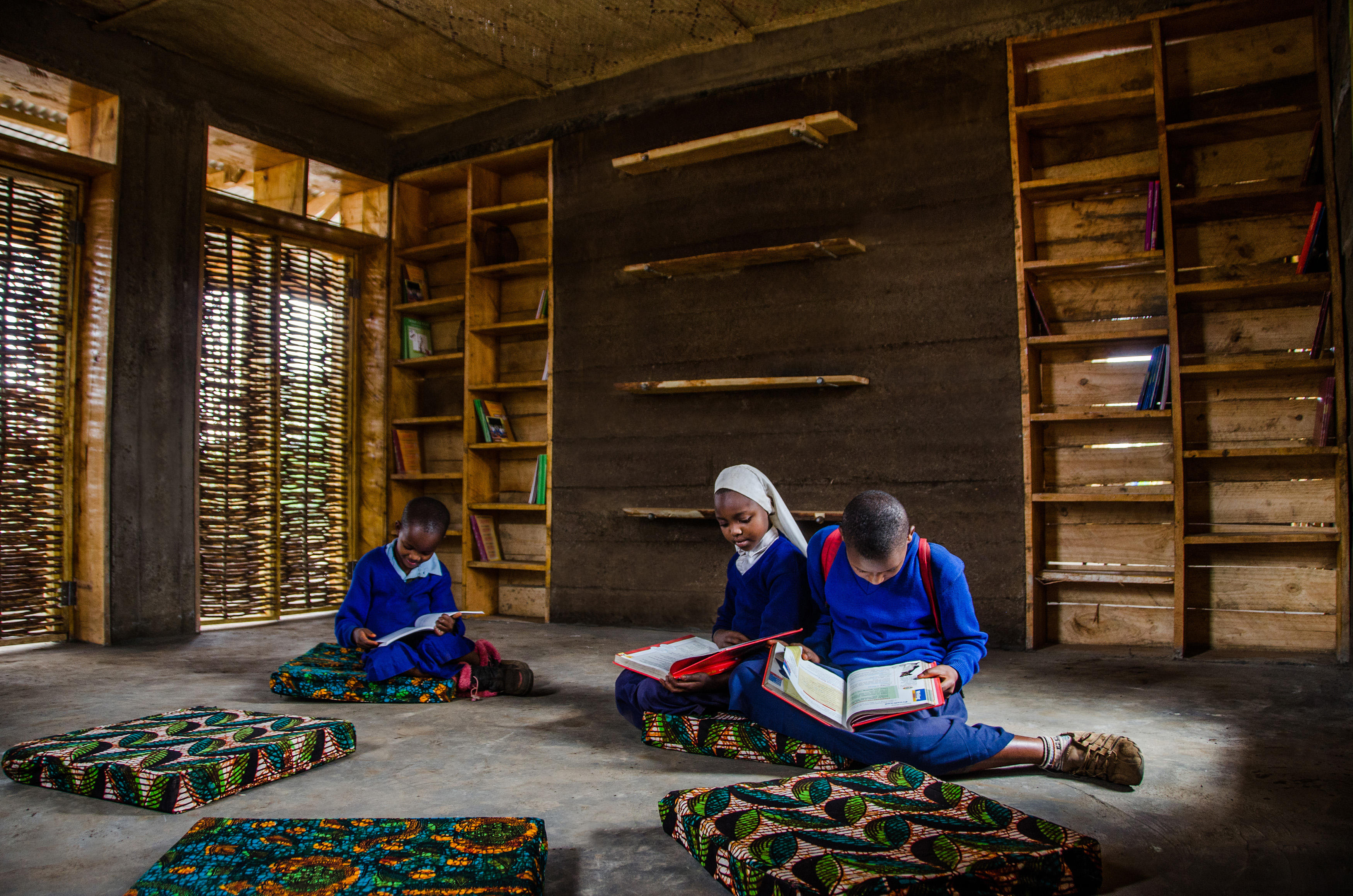 Introduction
who Social Practice Architecture (SoPA): Patricia Báscones and Lara Briz
what Amani Library, 105 m2
where Kikaobani, Rombo district, Tanzania
when Design: January-July 2016 | Construction: July-October 2016 | Completion: October 2016
how Structure: load-bearing rammed earth, wooden pillars | Materials: rammed earth, wood, bamboo, stones, cement
with whom Kibaoni inhabitants and international participants
how much 8500 € (materials and labour)
Project Inception
In Tanzania, traditional materials and techniques adapted to the environment are abandoned in favour of importing expensive and sometimes energy-inefficient materials and products, such as concrete blocks, from which only manufacturers in more advanced economies benefit. What about re-setting an architecture based on sustainable principles?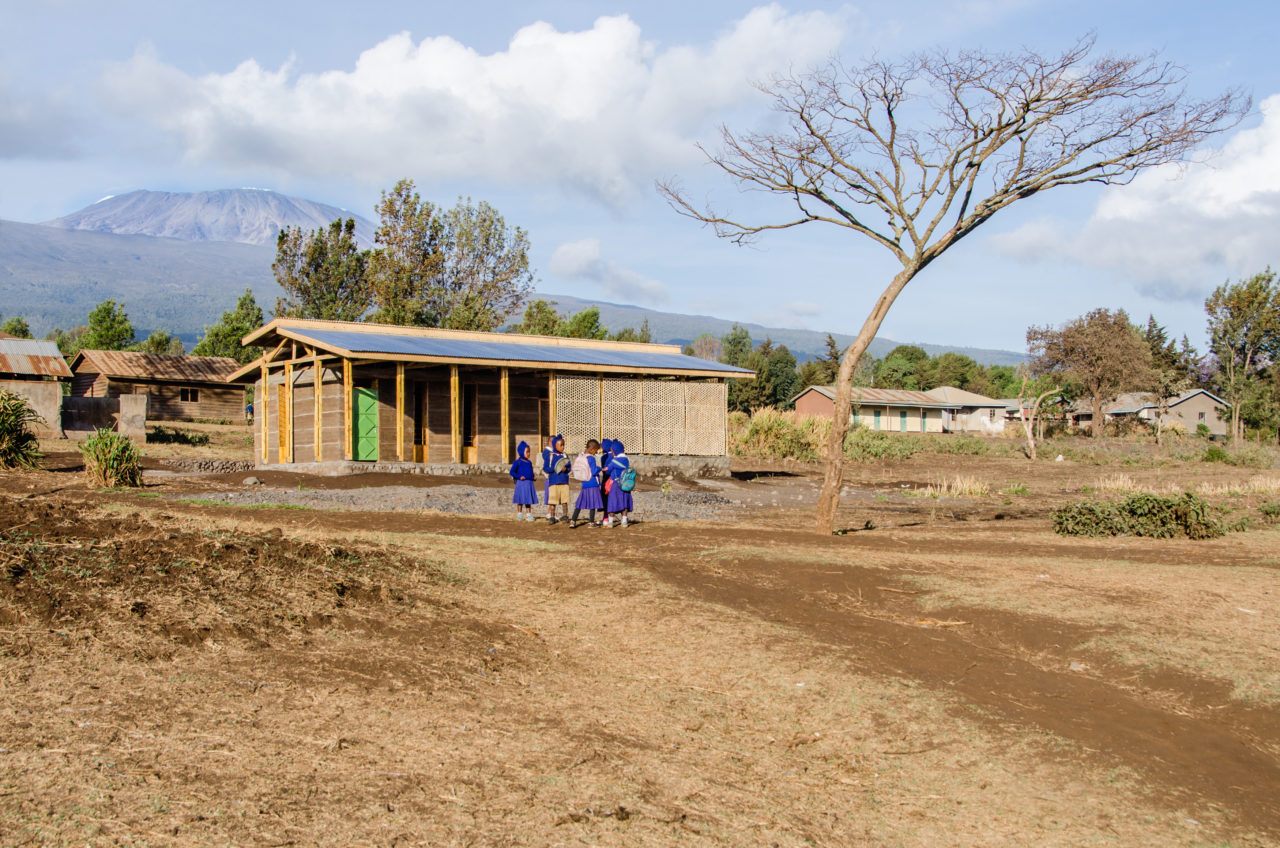 In 2015 we participated in a call for ideas for young architects concerning the promotion of earth as a sustainable building material. The fact that our design got finalist rose our interest in earth construction and drove us forward to a deeper research and training in the topic. On the way, we were put in contact with Mathew Matoli, chairman (mayor) in Kibaoni, Tanzania, that shared our same ideas about sustainable principles. After analyzing the local necessities and exchanging some ideas, the project was conceived as a way not only of giving the village's Primary School a library but also of encouraging the sustainable development of Kibaoni community from the perspective of reinterpretation of traditional building techniques and participatory planning.
In this way, the aim of the project was to build a school library made out of earth for less than 10,000 $, creating a construction that exemplifies a modern approach to traditional earth architecture.
Local Materials and Their Perception
Our choice of materials and techniques was a mix between available resources on site and local preferences and aesthetics. The process allowed sufficient time to facilitate a dialogue with the community seeking for respect, curiosity and care.
There were different aspects that influenced our choices and way to address the project, first of which the perception of earth as building material.
In Tanzania, since economic and political liberalization in the mid-1980s, a new middle class emerged and it is distinguished by the increased consumption of imported goods and new ways of making and managing money. The new house styles based on imported materials are understood as a response to these changes and earth construction is, therefore, associated to the past and to poor living conditions.
The crime rate in this region is high, mainly because of theft and burglaries. Traditional mud-and-pole houses are seen as unsecured and easy to break into.
Water scarcity also influenced all decisions during design and construction phases.
Nevertheless, these problems were seen as an opportunity to learn, go further and be able to provide solutions when designing and building the library. The decisions in favour of natural materials and certain building techniques resulted from the analysis of the situation and the exchange with craftspeople's know-how and background on site.
A Convivial Construction
The construction of Amani Library was carried out in a short time frame of four months through a workshop with both Kibaoni inhabitants and international participants. The workshop was regarded as a learning experience through an immersive and collaborative design-build project.
During the construction phase of the project, we worked alongside craftsmen, builders and interested people from the village. We learnt of their construction methods and techniques while also sharing our own ideas with them, aiming to encourage sustainable design concepts and practices. We were all able to learn from each other in a constructive, respectful and fruitful collaboration. The impact of this participatory process extended beyond actual design outcome – it helped to cultivate cross cultural exchange and understanding.
Material Matters
The project is mainly constructed from using two materials: soil excavated from the site and locally collected wood and bamboo.
The earth as building material defines the main shape of the building since the perimeter is built with load-bearing walls using the rammed earth technique. Walls are monolithic and only interrupted by full height windows that divide the space and let the light come in. The earth, besides strengthening the individual character of the space from an aesthetical point of view, contributes also to a better indoor air quality.
In contrast to the massive walls, the cypress doors and bamboo enclosure at the veranda let sunlight smoothly pass through, creating playful patterns on the floor and different atmospheres while also allowing views of the surroundings.
A Crossroads for the Village
Amani library was conceived as an additional – yet independent – new space for Kibaoni Primary School. During school time, the library offers a common space also open to further cultural and educational activities such as tutorial classes, teachers' meetings, reading time, etc. Moreover, independently of the school's timetable and calendar, the veranda serves as a space for children's recreation during playground, after-school and holidays.
Because of its key location beside Kibaoni Primary School and next to Kibaoni Secondary School and an improvised football field, Amani Library resulted in a meeting point for all Kibaoni inhabitants. At the end of the day, the library goes beyond the school's educational purposes and acts as crossroads for the whole village.
A Reader's Architecture
The library gathers children's books, mostly coming from the school and from donors. The building welcomes books by providing different storage spaces in the enclosure elements and furniture. For instance, windows are conceived as shelves and seats, inviting not only books but also readers.
The architecture of Amani library provides different kinds of spaces to promote a different approach to reading and learning, as an alternative to the typical frontal approach to lessons. The library seeks to promote reading by offering a welcoming place for children; with spaces where to meet, relax and enjoy books and culture. Amani library introduces different materiality and light aspects to create specific spaces and atmospheres where children can feel invited to develop their interests, curiosity and imagination.
Amani Library by SoPA received the 2019 FIBRA Award, first world wide prize for contemporary plant fiber based architecture, in the category Filtering & Shading.
text
Lara Briz
photographs
Lara Briz & Patricia Báscones